You are here
Humboldt Forum at the Berlin Palace
© Franco Stella HUF PG / Jan Pautzke
Humboldt Forum at the Berlin Palace
The Humboldt Forum in the Berlin Palace links the reconstructed historic architecture with a cosmopolitan, forward-looking agenda. The building's corporate design coupled with a timeless, straightforward and adaptable orientation system uses striking means to create highly contemporary locations with a strong identity. The competition for the building's corporate design included the design of a guidance and orientation system, the public spaces, the language library, the auditorium and the Humboldt-Universität's exhibition area.
The palace's extensive entrance areas resemble a central square in a big city. In response, the orientation system inside the building follows an urban-planning approach to public spaces. Thanks to the distinctive character of the various parts of the building and the clear and logical orientation system, people are able to move intuitively around the space. In this symmetrical, reiterative layout, the building's corporate design mediates between the structure and sheer size of the architecture and the human scale.
The deep-black functional fittings and furnishings that shape the space correspond harmoniously and on equal terms with the uniform broken white of the architecture. An emotional and haptic level is added to this interplay of black and white through the targeted use of colors, textiles and light. The information and orientation system is kept detached from the architectural substance and strict pattern of serial column spacing, functioning as an independent element and intermediary between the building, the architectural corporate design, and the visitors. In the four-story entrance hall, the strict symmetry is broken by a "lighthouse" of screens displaying information about the palace. The eye-catching tower will be the defining element of this space, creating a visual link to and from the balustrades in the upper stories. This poetic, artistic touch ensures easy accessibility for people of all ages and all social and cultural backgrounds, whetting their curiosity about the fascinating world of information that awaits them in the Humboldt Forum.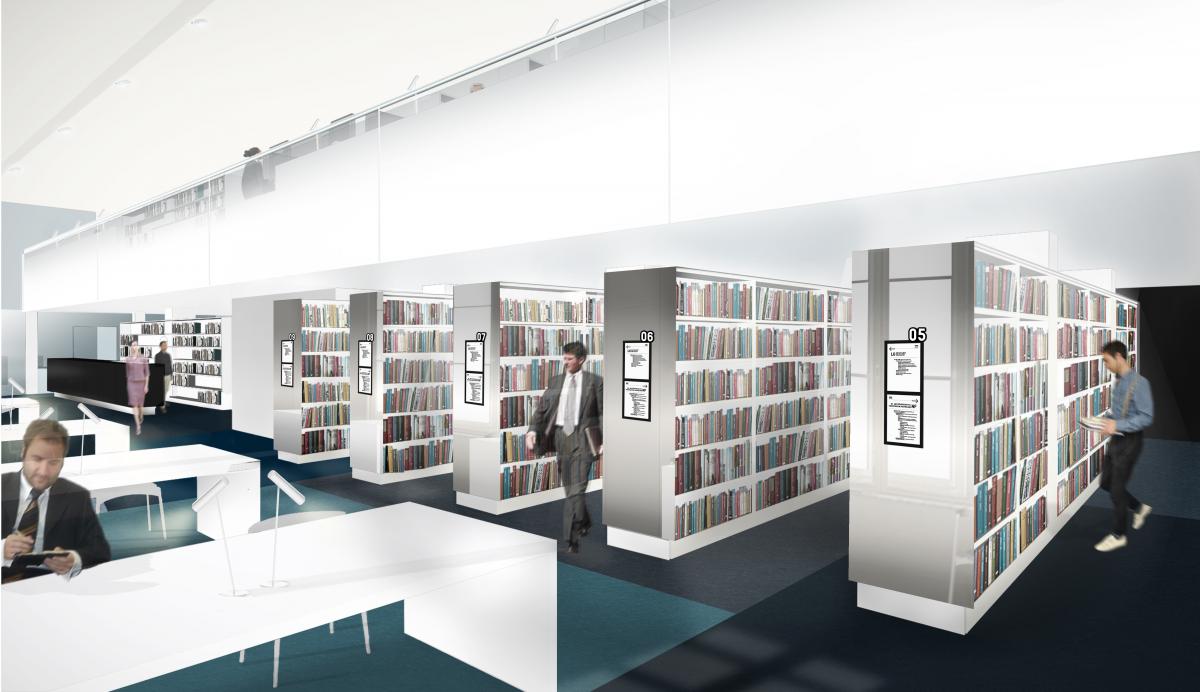 © Holzer Kobler Architekturen / Gourdin&Müller

© Holzer Kobler Architekturen / Gourdin&Müller

© Holzer Kobler Architekturen / Gourdin&Müller