You are here
Gender and Violence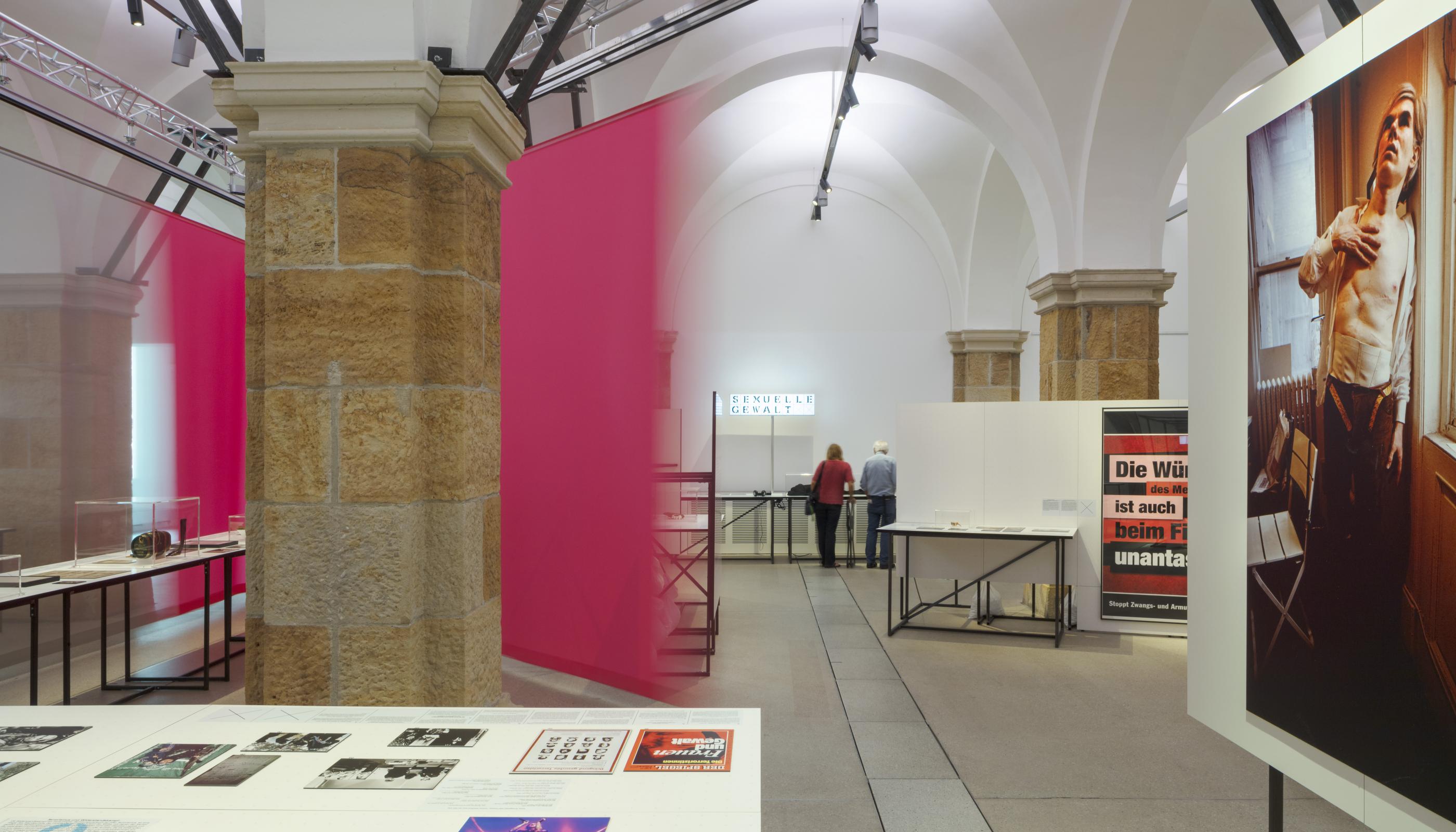 War is for Men — Peace is for Women?
The exhibition Gender and Violence focuses on men and women and how they participate, visibly and invisibly, in war and peace. Just as war and peace are not fixed quantities, the difference between the genders is less clear-cut than a description of woman as peaceful and man as violent would lead us to assume.
The exhibition's prologue introduces its themes through images: reproductions of historic war paintings and portraits of rulers displayed on freely arranged easels. These are representations of power and violence; yet the real theme of the prologue is not the content of these images, but the artists who painted them: all of these works were created by women, as we discover only when we look at the reverse of these images mounted on stands, where in each case we find a portrait and biography of the artist.
The main part of the exhibition comprises various thematic sections spread out in the Museum's historic exhibition hall, and the industrial hall in an annex. Large multi-level translucent partitions direct the path one takes through the first area, "Power and the Military", as well as the movement of one's gaze over the objects on display there. Thus contentual connections are created through a dynamic process, thematic clusters are assembled and dispersed, and contexts change constantly. The exhibits in this area have associative relationships with both the titular theme and with each other; through their movements, the partitions help to establish interconnections – from moment to moment, according to one's standpoint and individually for each visitor. The second exhibition hall bears the specific stamp of what was formerly an industrial space. Here the mobile partitions continually form different zones which they then dissolve. There is a more structured presentation of objects and themes in the second part of the exhibition, and what has already been seen is resituated in a theoretical context. The conceptual spaces that open up and the diversity of thought-provoking content facilitate real engagement with this exhibition.
Thematically structured exhibit tables and showcases as well as solo key exhibits lend depth to their contents. The presentation of the objects takes into account their multiplicity and diversity, supporting these objects and their messages in a direct and straightforward way. Each table examines a theme in depth or assembles a thematic cluster. Illuminated signs help visitors to locate themselves in the exhibition space and allow individuals to follow their own priorities.
In the outdoor display area, the exhibition dovetails with works from the "Targeted Interventions" project. Through sculptures resembling rockets and human figures, male and female artists from six countries explore the analogy between armed bodies and gendered ones. This exhibition within the exhibition was sponsored by the German Federal Cultural Foundation and curated by Sarah Sigmund.