You are here
Stadthafen Rostock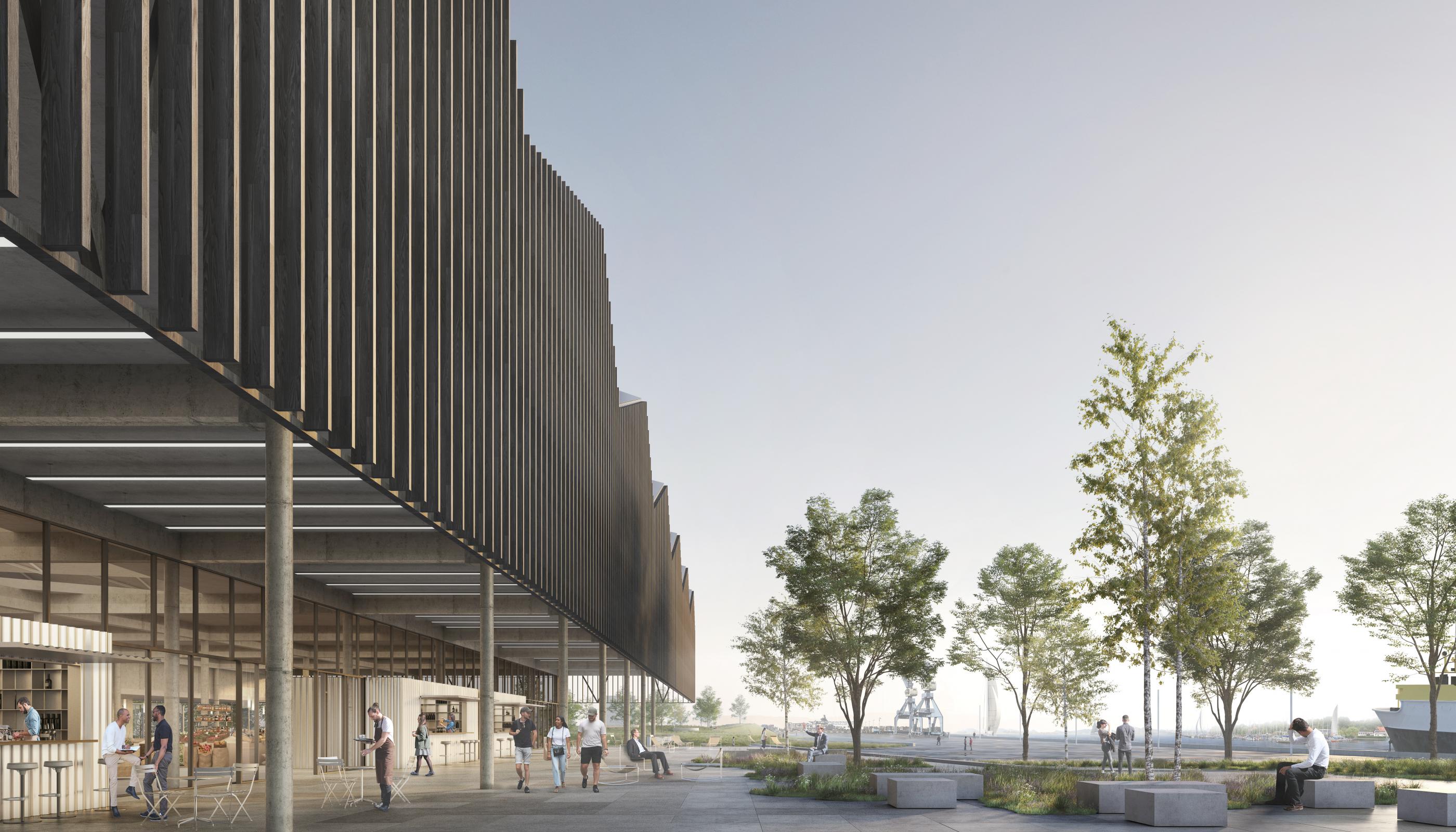 The redesigning of Rostock's city harbour will create new and vivid surroundings with amenity value in the centre of town. In developing their concept, A24 Landschaft and Holzer Kobler Architekturen looked at the different time frames in the region of Rostock and its cultural heritage and introduced this into their design. Leaving behind the monofunctional harbour and traffic areas and heading towards a diversely arranged landscape of leisure, this project signals the beginning of a gradual transformation process.
One essential element of the new harbour complex is the central plaza in the eastern part which, with its striking architectural setting of the ALM, the harbour master's office and the upcoming Hall 625, will have an interregional impact. The newly conceived Hall 625 is to be seen as an extension of the public areas. With its characteristic shed-like roof volumetry and the repetitive, filigree structuring of the façade of the building, a calm and iconic hall is created that opens up towards the city and harbour area. Near the rim of the harbour, the building that is accessible from all sides, forms an arcade – a covered extension of the ground-floor market hall – with sheltered spaces to linger on sunny or rainy days. The market and event hall constitute the centre of the ground-floor and are framed by the Innovation Centre and Hanse Sail Association as well as the Tourism Centre. The floor areas are designed so as to enable combinations or subdivisions for multiple usage.
An open area with soil mounds adjoins the harbour area of the city on the west, as an extension of the ramparts encompassing the old town. The varying heights of the mounds enter into a dialogue with the prominent and high Kanonsberg. The tempered structure of the mounds planted with different types of grass stands in contrast to the roughness of the harbour facilities with poetic lightness and interacts with the waterfront on the opposite side and the coast nearby. Wooden picnic decks set the stage for grand views of the harbour panorama.