You are here
Erlebnis-Hus St. Peter-Ording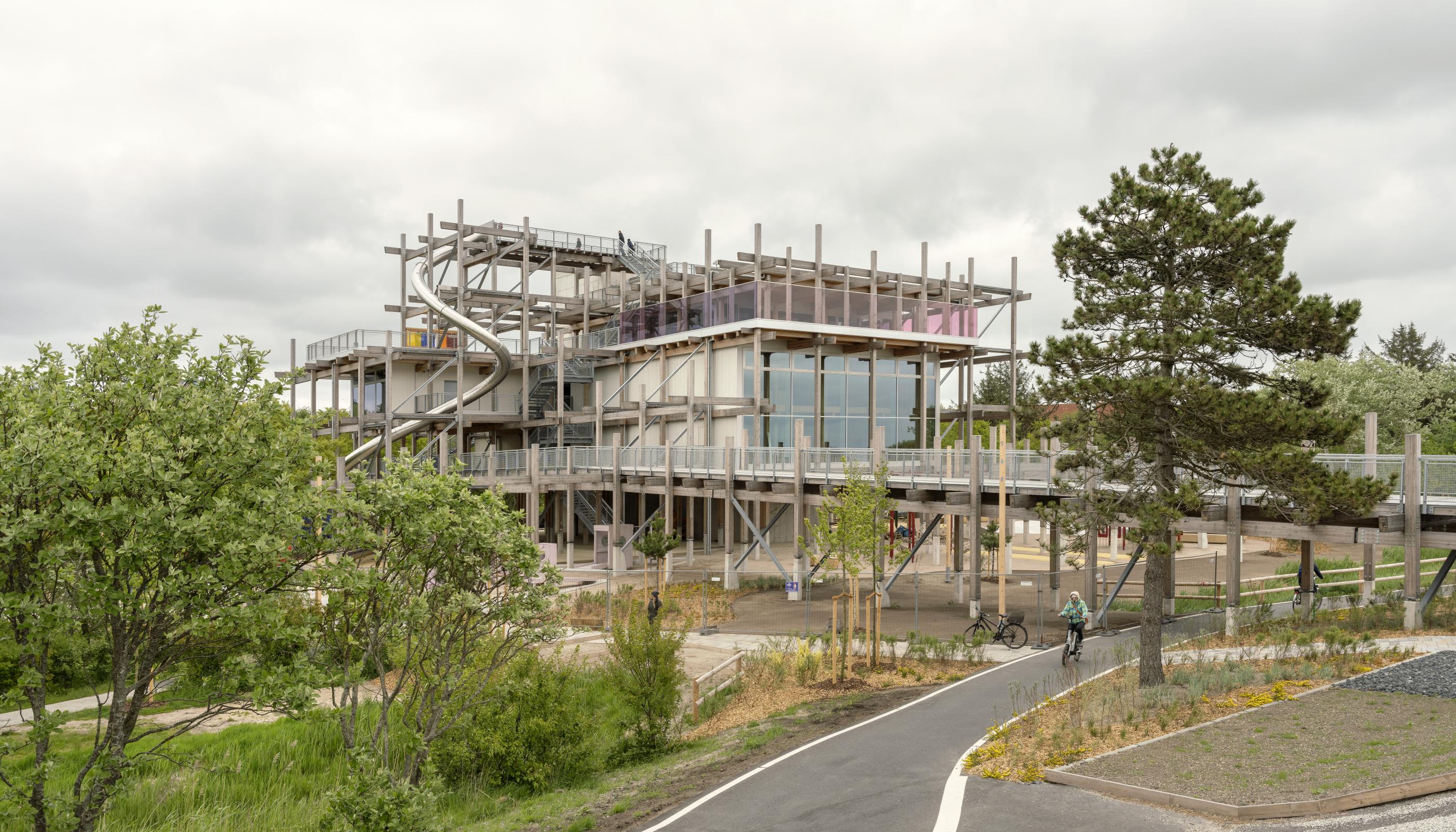 © Holzer Kobler Architekturen
Erlebnis-Hus St. Peter-Ording
The recently established Erlebnis-Hus in St. Peter-Ording marks the culmination of the extended beach promenade, resulting from a successful collaborative effort with the landscape architecture firm Uniola as part of an open-space project. Focused on inclusivity, this facility is designed to be a communal gathering spot, catering to visitors of diverse ages and backgrounds. It not only embodies a distinctive local character in both form and function but also projects a compelling identity that extends well beyond the region.
The construction method draws inspiration from the traditional local pile construction while infusing it with a fresh perspective. It comprises a structure of glulam columns and beams, artfully arranged to incorporate five oversized wooden cubes at varying heights and positions. Sustainability was a paramount consideration throughout the project, with a commitment to using eco-friendly materials and maximizing the visibility of the wooden components to minimize material use.
The project's objective was to create an environmentally sustainable, socially innovative, and tourist-friendly solution that enhances the area's appeal. Each of the five cubes within the structure serves a distinct purpose, housing an analog playground, an information center, a store, a restaurant, staff offices, and sanitary facilities. These cubes are enveloped on three sides by wooden facades, with one side featuring large windows that offer breathtaking vistas of the sea, the adjacent biotope, the promenade, and the distant landscape.
Numerous terraces and stairs provide accessibility and multiple outdoor usage levels, while a reinforced concrete core houses an elevator and infrastructure rooms to support the iconic wooden structure. The incorporation of playground equipment into the wooden sculpture invites visitors to engage with the building, encouraging playful interactions both within, around, and atop the house.
images ©Jan Bitter